512841 visitors since 2010.05.27 ^^
Top
Updates
Original Works
Community Works
Flash Animations
Links
---
Forums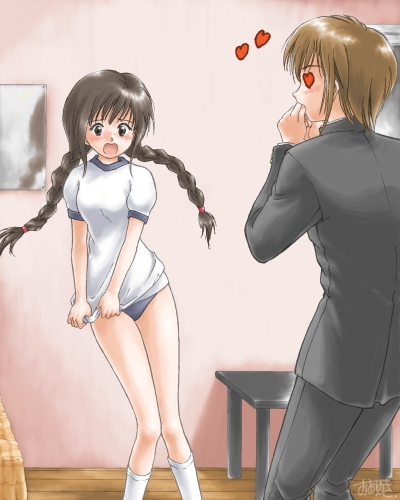 Older brother wearing bloomers, younger sister wearing male student uniform
From Okashina Futari ~ Chapter 46 ~ 2002/12/23
Illustrator: Ohyuki


"Ahh. . . ah. . . "
Then his long hair began to roll up as if it were alive, resulting in three braids.
"Now, it's done."
"Oh, I'm now. . . "
Ayumi was now wearing an athletic shirt and bloomers, and his long hair was in three braids, with his body remaining the way it was.
"How cute!" A beautiful boy, Satori was shivering from excitement.
Ayumi's thighs, exposed by the bloomers, were healthy and perky, but also somewhat erotic.
"Ch-Change me back!"

---
← previous ~ Image #98 of 223 ~ Up to Page 7 ~ next →